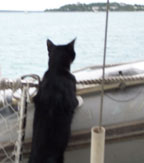 Felix spots land! Hmmmm I wonder if there are any birds there?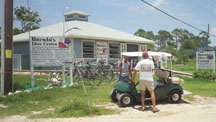 Although a few hardy souls rented bicycles to explore Green Turtle, the rest of the group opted for a less strenuous mode of transportation.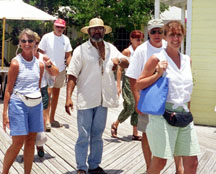 The group looks happy and well fed after an enjoyable lunch at the Green Turtle Club.
After spending an interesting day exploring the town of Green Turtle on New Plymouth Key, some of the group stayed over for an extra day and took the ferry to Treasure Cay. The others sailed to Great Guana and anchored at Baker's Cay on the North end. This is a delightful anchorage with a beautiful beach on the Sea of Abacos and a short walk across the Island brings you to the Atlantic and another great beach. We anchored out there for a couple of days then sailed down to the settlement on Great Guana. Unfortunately the Great Guana Resort was heavily damaged in a hurricane and is up for sale but we found Nippers on the Atlantic side and had an enjoyable afternoon there.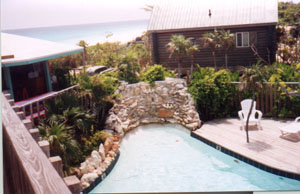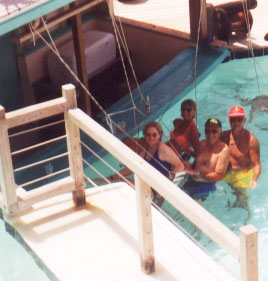 The pool at Nippers is well landscaped and offered a place to cool off after a hot walk through town. The crew from Diversion and Harmony find a new way to "belly up" to the bar.
---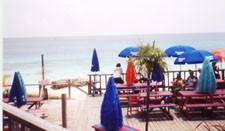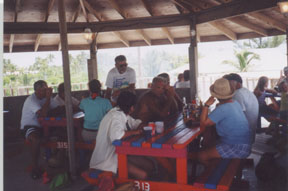 After all that exertion, everyone does what they do best, order lunch on Nipper's scenic patio overlooking the Atlantic.
After Great Guana most of the group head out for Man O'War Cay but Boots and Dick on Loreli went to Marsh Harbor to meet up with Lee and Richard on Sybarite. They also met Peggy and AL on Reef No More and Ray and Marilyn on Discovery. Then they all joined the locals for the Goombay Festival in town.
Lee of Sybarite practices for the dance contest where she came in second! Anybody got any liniment?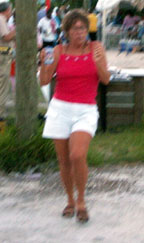 After Marsh Harbor the group heads back across the bank and then home.