Pre-Cruise Preparations
There are some necessary forms that need to be taken care of before you can pull anchor. See Customs page for forms and information.
ANCHORS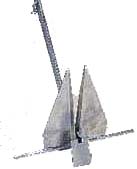 The anchor should be sized properly for the length and weight of boat. There should be a length of chain and rope connected to the anchor. Two anchors are recommended for anchoring in the Bahamas. Inspect anchors, chain and rope for general condition make sure any clevis pins are safety wired so they will not come lose.
DOCK LINES
Five dock lines at least the length of the boat are recommended.
RUDDER AND CONTROL LINKS
The rudder is the most important piece of equipment on a sailboat without if you are dead in the water. Inspect hardware for wear and loose connections. On wheel steering systems check for excessive play between wheel and rudder. Check rudder torque tube and support brackets for wear and corrosion. Check cables with a cloth to feel for frayed wires. Inspect pulleys and pulley brackets. On pedestal steering ,it is a good idea to remove the top and inspect the chain and cable ends.
RIGGING
Sailboats should have their rigging inspected every four years to prevent a serious failure. These inspection are best done by an experience rigger. In addition to the standing rigging, check all the running rigging .
ELECTRICAL SYSTEM

Check batteries, alternator ,running lights, anchor light, bilge pumps and VHF. If you fail to check any piece of equipment it will be the one that wonít work when you need it. Check Spare bulbs and fuses.
HEAD

Carry a spare parts kit for the head or a small bucket that is small enough to fit inside the bowl.
SAFETY EQUIPMENT
Be sure to check all Coast Guard required equipment. Other optional safety equipment: A safety Harness is a must for any one on deck in rough water. A spare or hand held compass, first aid kit,and wood plugs for through hulls.
ENGINE
Engine checks: oil. belts, leaks, filters and transmission fluid.
When the weather is nice, crossing to the Bahamas will be into the wind with a heavy boat motoring at max cruise engine RPM . If everything isnít right about one hour out, engine overheating will occur caused by one of the following : wrong size or dirty propeller, water pump impeller worn, dirty cooling system. A performance test run a week before the trip will test things out.
Spare replacement parts:
Engine belts
Engine oil
Fuel filters
Oil filter
Water pump impeller
Fuses
Light bulbs
Spark plugs for outboard motor
Preparing the Dingy

Inflate Dingy and check for leaks
Check painter condition
Check out outboard motor
If your propeller uses shear pins, carry spares and cotter pins.
Due to the strong currents around the islands, it is wise to carry an anchor in the dingy with a line long enough to reach bottom in deep water. If your engine quits on an out going tide, the long line could keep you from being taken out to sea.

Crossing the Gulf Stream is not the same as crossing an ocean but it is still a good idea to carry a water- tight container or bag with emergency supplies such as:
Drinking water
Flashlight
Knife
Can opener
Can food and drinks
Medical supplies
EPRIB
Whistle
Hand held radio
Flares
Sunscreen
Space Blankets
Candy bars
Light stick
Three or four black plastic trash bags
And anything else that you have room for
Securing the boat for the crossing:
When setting out on a trip to the Bahamas, there will be more equipment above and below deck than you're use to with stacks of loose items in the cabin and fuel and water cans on deck. Your plan is to leave in ideal conditions but what about that one rogue wave in the inlet or a quick thunder storm in route. Avoid the panic moment. Secure it at the dock.
Anchors have been known to jump out of their bracket and go over the side. A safety line will prevent this from happening. Loose chain on deck can also bounce overboard and should be secured.
Deck openings and side windows should be closed for the crossing.
All loose items on deck should be tied twice. A loose fuel can is truly a panic situation.
Prepare the cabin for that rogue wave and put the coffee pot in the sink.
Prepare snacks and lunch before leaving the dock.
Check the weather and you are prepared for the crossing.
Medical Supplies - you can buy a first aid kit but I've found that they usually have too many of some items and not enough of others. You can usually make your own cheaper by stocking it from your own home medicine cabinet and buying the other items. I use a plastic storage box with a tight fitting lid to store medical supplies. The following are items that every medical kit should have and below it is a list of medications that could definitely come in handy.
Standard First Aid Items
Ace bandages - two 2 inch rolls & two 4 inch rolls
Adhesive tape - 2-3 rolls
Airways - 1
Alcohol- isopropyl
Ammonia
Antiseptic ointment - Bacitracin or other antibiotic ointment
Bandages - gauze 1,2 and 3 inch
Bandaids - a variety pack of all sizes
Betadine Solution
Butterfly closures
Cotton tip applicators
First Aid manual
Ice pack (preferably one that can be used for hot or cold)
Medicine dropper
Sterile eye pads
Peroxide
Scissors
Splint
Sharp Needle
Small splints - tongue depressors (toes & fingers are very vulnerable on a boat!)
Sterile gauze pads - 2x2 and 4x4
Sunburn supplies - zinc oxide, sunscreen, sunblock etc.
Thermometer
Tweezers
Medications
Milk of Magnesia or other laxative
Immodium or kaopectate
Glycerin suppositories
Tums, Rolaids etc.
Sinus congestion medication
Aspirin or Ecotrin or bufferin - for pain & fever
Tylenol
Oil of Cloves- for tooth ache
Caladryl lotion
Benadryl liquid or tablets
Otosporin ear ointment
Liquid tears or opthalmic ointment
Seasickness medication
Any personal medications as it is difficult if not imposible to fill prescriptions out of the country
Keflex or a broad spectrum antibiotic (this is a prescription item & you'll hve to consult your MD)
Although there are stores in the Bahamas they are, for the most part, sparsely stocked and high priced so it's a good idea to stock up in the states.
I usually decide how many breakfasts, dinners and suppers I will have to prepare. So if I plan on being gone for three weeks that's 21 of each. I then make a rough menu plan and make a shopping list from the plan. This works out well as it keeps me from buying too much of one thing and not enough of another.
Here's a few hints that might be helpful when you are provisioning:
Bread molds very fast on a boat and takes up too much space in the refrigerator so I only take enough for the first couple of days. Bahamian bread is delicious but it isn't always easy to find anymore. As an alternative I take English muffins and tortillas. The muffins will keep for 2-3 weeks and the tortillas take up very little room in the refrigerator and will keep for several weeks.
I also brown my hamburger with onions and peppers ahead of time and store it in zip lock bags. This can be used for everything from sloppy joes, and spaghetti to stroganof.
Potatoes also do not keep well in the hot moist confines of a boat so I usually boil them ahead of time then put them in the refrigerator. They keep for 2-3 weeks and you can use them for many dishes from hash browns to potato salad. If I've planned for a couple of meals with baked potatoes, then I wrap the potatoes in newspaper.
http://www.westmarine.com/webapp/commerce/command/ExecMacro/home.d2w/report